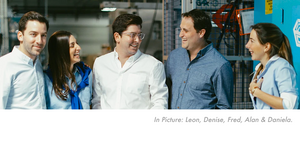 About Us
We are a group of visionary individuals who, in 2013, embarked on a mission to revolutionize the packaging industry. Our team consisted of five young and ambitious migrants who shared a common desire to create something new and valuable.
Our passion for innovation and disruptive thinking has been the driving force behind the creation of Captiva Containers. We recognized that the industry had reached a plateau and that there was a need for a fresh perspective. Our determination to challenge the status quo led us to ask ourselves whether it could be done differently and better. The answer was a resounding yes.
At Captiva Containers, we specialize in the production of premium and custom packaging solutions. Our unwavering commitment to excellence and customer satisfaction is evident in our daily operations. We are driven by a clear purpose – to manufacture packaging solutions that capture the essence of our clients' visions and aspirations.
We understand that entrepreneurs and businesses have unique requirements, and we take pride in our ability to deliver tailor-made solutions that exceed expectations. Our services include custom bottle designs, printing and labeling, storage, eco-friendly options, and flexible production lines to accommodate orders of all sizes.
Our state-of-the-art facilities allow us to produce millions of bottles every month, while our dedication to quality ensures that each product meets our exacting standards. At Captiva Containers, we are passionate about what we do and are committed to helping our clients achieve their dreams.